Home Location Register (HLR) / Home Subscriber Server (HSS)
Mobile players need collaboration
With the speed of digital change and an ever competitive mobile market, the Telecom industry cannot keep working in the classical one-size-fits-all model. Summa Networks have crafted a new development model where collaboration with customer and customer support are our main driver.
Our founders have a proven track record in telecommunications technology and go-to-market, and this is why we choose for a different approach. We rely on agile methodologies where changes and requests are embraced in order to create the best and most cost-effective solution for the customer. With Summa Networks, your TCO is under control as well as the software evolution into the 5G future.
So jump on-board and let's build the next-generation mobile network together, as a combined effort of all parties involved, as an journey to take your network into the future.
Feature & margin rich telecom solutions
Our offering is specifically designed to avoid overfeaturing and overpricing, while being flexible, extensible and scalable. We developed a state-of-the-art product that surpasses the standards of existing HSS / HLR to enable your network to have a solution tailored to your needs.
In the race to 5G, the market trend is to offer HLR / HSS solutions with little features and a minimal mobile core. While this approach is a good short term solution, the complexity of future communications requirements and the need to interwork between 2G, 3G, 4G and 5G will demand more complete solutions. We therefore work to fully implement 3GPP specifications. Our software is already Release 15 compliant and is ready to evolve to the coming specifications.
Our NextGen HSS can cover any customer operational needs as they can be seamlessly deployed on-premises bare-metal, in virtualized environments, in cloud environments and as Managed Services.
Our carrier-grade product suite
Summa Networks NextGen HSS, our flagship product, is a full-featured converged HSS and HLR on top of a unified subscriber database. All your subscriber data management needs are covered into a single software suite, capable of talking to all networks.
Our NextGen HSS features include Multi-SIM-IMSI-MSISDN, Roaming controls, SOAP API, AUC, EIR, DNS / ENUM, Lawful Interception, AAA for VoLTE and VoWiFi evolving into 5G UDM, UDR and AUSF. As common horizontal features: protocol KPIs, unified subscriber management, reporting, logging, subscriber-tracing, all accesible via our amazing and intuitive NextGen GUI.
The Summa NextGen HSS offers service providers a carrier grade software product, which provides an excellent alternative when facing the typical barriers of the traditional HLR and HSS products.
Our team works hard to have the best GUI we can deliver to match our HLR / HSS.
We can do a quick demo!
Yes I'm interested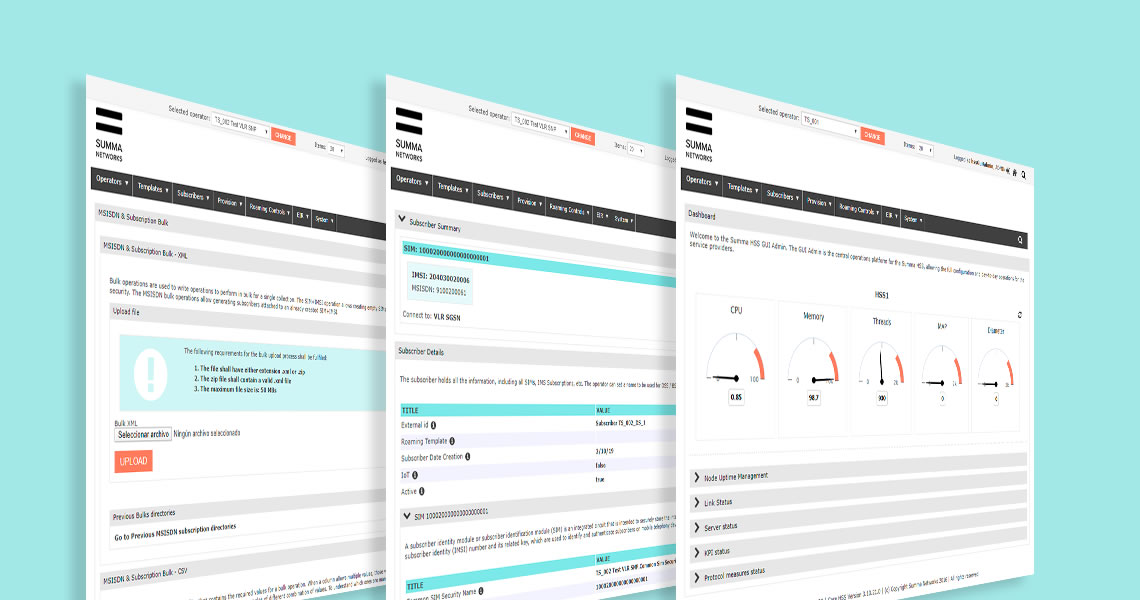 These operators run on NextGen HSS

Please, move the map to the right or left to see it full